HappyHillbilly.com
Presents:
"When Snakes Get Pregnant"
(Actually, it's more like, "When BIG Snakes Get Pregnant")
As many of you may already know, I've got two Burmese Pythons, an 8-ft long male and a 10 1/2-ft long female. They are both almost 3-yrs old. I successfully bred them this year and the female became pregnant (Officially referred to as: "gravid.").
Some snakes bear live young and some lay eggs; Burmese Pythons lay eggs. Mine laid her eggs today and I thought some of you might like to see some of the photos I took.
These first three photos were taken last Saturday, April 14, before she laid her eggs.
Here is another photo of Hunter and the snake. She's relaxed a little more in this one and you can see that her belly is swollen from the eggs. If you look closely you can see her head's facing the camera while resting on Hunter's right arm, on the end of his sleeve. You can see the camera flash in her eyes, making this gentile giant look more like an evil monster.
These next six photos are of her laying her eggs, with the final photo showing the size of one.
It's hard to fully comprehend the size of this snake and her eggs from these photos. Up close and personal, it's quite a remarkable sight and experience. To try to give you a better idea of their size, I took a photo of me holding one of the eggs in my hand. See the next photo.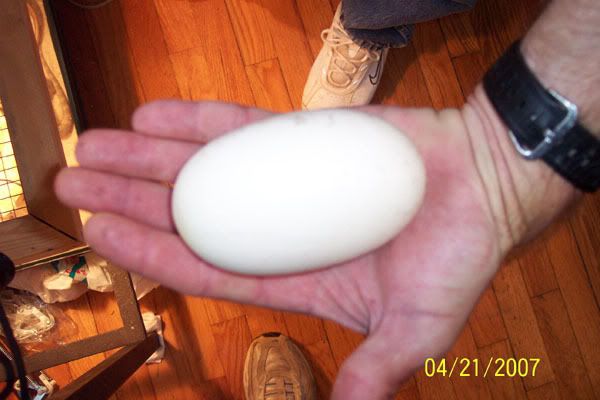 The eggs measure just over 4-inches in length. I was unable to count each egg because I didn't want to disturb her. Snakes have a tendency to be protective of their eggs and I didn't feel like seeing what she would do. The egg I had in my hand had rolled out of her coils while she was laying another one. I had to wait until she was distracted by the process of laying another egg so I could get it & put it back within her coils.
The best I can tell, she laid about 30 eggs. 30 - four-inch eggs.
If you would like to see more photos of both my male & female Burmese Pythons click the link below. The photos are several months old so both have grown some since.
Copyrights property of HappyHillbilly.com 2007
This page was last edited on 04/22/07